The photo you see above was a long time ago. It was one of the first times
kathryntact
came to visit me in NYC, early on in our budding relationship. This marked the first time she came out to dim sum with me and my randy NYC crew. You can see the trepidation on her face... nervous about what she was about to put in her mouth. I imagine that wasn't the first time she felt nervous.
Since then, she moved up from the calm comforts of North Carolina to be with me in NYC. She braved a scary city, without her close friends, sacrificing the life she knew and comfortable with to be with me. We made a home together... we even built a family together (our cats, of course.)
We've since lived together for a year and a half. We've struggled... we've rejoiced... we've learned one another... and our lives have melded together. It's been a wonderful bunch of years, and there was only one thing I could think of to make it all perfect.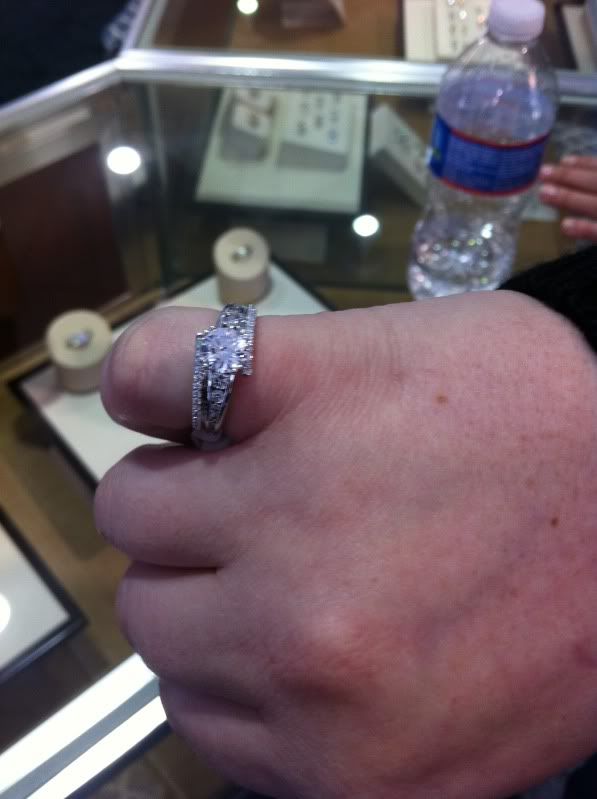 So I bought her a ring. See? There it is! I know, I know, it's on the wrong finger... we're still making some changes to it. A new stone, a different cut, so we won't have it for a few weeks. But that's not the point.
See, here is the point. On New Year's, at a small party, surrounded by the most wonderful group of friends, by those who I consider to be those closest to me, my Kathryn and I found ourselves alone. We went to a room during the party, sometime in 2010. We talked, we hugged, we kissed. And I dropped to my knees, and asked a question. The question.
She said yes. Amazingly, wonderfully, fantastically, she said yes.
We walked out of that room, sometime in 2011, not knowing when the ball dropped, a changed couple.
An engaged couple.
I'm going to marry the love of my life.
And yeah, it feels just as good as it reads.